DR. BORREGGINE APPEARS ON LOCAL PBS SHOW "BEING WELL"
IL Podiatrist Discusses Diabetic Foot Care
Diabetics have more problems than non-diabetics says Dr. Joseph Borreggine. "Diabetics suffer from circulatory and neurological problems, such as losing sensation in their feet. They also tend to heal wounds more slowly. When blood sugar increases, so do infections," says Borreggine.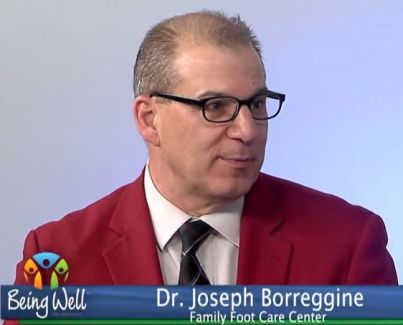 "Diabetics typically present to podiatry offices for what we call 'at-risk' foot care. You might think that cutting calluses and trimming nails are not important things, but to the diabetic these are very important things. We are able to provide palliative care, and we are able to assess any major problems that are occuring with that patient over time. We are able to stave off any complications that might occur, and to identify any structural deformities which may lead to complications down the road," says Borreggine.
Source: Being Well, WEIU-TV [1/6/15]
No comments.
Sign in to post comments.